"The Proposal" as told by our bride, Autumn
Anticipation
"Well I knew the ring was ready this week and I wasn't sure what John's plans were or how he would give it to me. He took Friday off work, he he- so I suspected something. Of course all week I would ask "isn't there a certain item you are supposed to pick up.... aren't you expecting something?" I have no patience as most would know."
Sweeney Todd
So I mentioned Friday afternoon that I wanted to see the play version of Sweeny Todd - and heard it was running here at a local theatre. John was able to get, seriously, the best seats in the house...third row center."
John Gets Serious
"He totally cleaned the house, vacuumed the couch and rugs and floors - laundry and all. He also said he was making dinner (not too out of the ordinary - but very nice). Once I got home, I then asked "what's in this drawer?" - which is HIS drawer for random stuff in our desk...he said "oh nothing- you can't go in that drawer" - BLAH!"
Where You Least Expect It
A bit later while I was on the phone, in the kitchen, he must of done something...when I came back he told me that the "item I was looking for" was hidden somewhere down stairs.... oh jeez!! So I look and look ...then I just give up and sit and watch TV for a while...kind of look some more...he told me it was in the "play room" where most of Gabe's toys and our computer/desk are.... I looked some more and told him "fine I don't want it anyway..." then I sit down at the computer because I was going to check email.... and I see this..."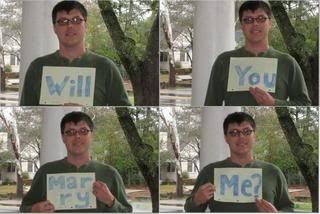 -------------------------------------------------------------------------------------The challenge is to create a piece that would be a perfect fit for Autumn and John's wedding event.
This challenge is sponsored by three great Etsy teams. Visit all 3 for more of Autumn and John's story:
JET (Jewelry on Etsy team)
EtsyFAST (Fiber Arts Street Team)
Etsy Greetings
EtsyGreetings members, please check in at google groups for details on how to participate!