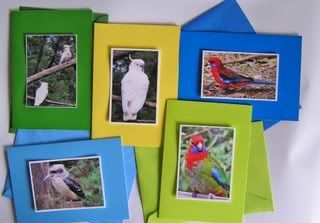 Notes from the Artist:
I love working with colour and take much of my inspiration from the Australian bushland that I am lucky to live near. I take photographs of anything that grabs my interest when I go walking with my camera, from bright birds to interestingly twisted trees.
The photos on my most recent cards were taken a couple of weeks ago when I treated myself to afternoon tea up at Sherbrooke Forest in the Dandenongs, near Melbourne, Australia. The cards all have the names of the type of bird or tree written on the back.